About us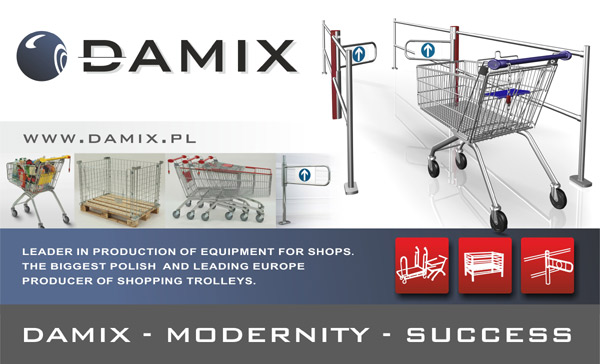 DAMIX is a company specializing in the production of furnishings for stores, supermarkets, warehouses, petrol stations, The traditions of the company combined with many years of experience of the team as well as state of the modern machine park have resulted in many well-known companies, seeking high-quality products, using the Damix product line.
a
Forty years of history
The beginnings of Damix date back to 1975 when Furniture Accessories Factory, operating as a state owned enterprise, was built in Rypin, in the northern part of Poland. The company has quickly grown into a specialized enterprise and achieved a significant position in the furniture accessories industry in Poland, setting standards for largest furniture factories of the time in the country. Unfortunately the factory was challenged by financial difficulties and in 1996 it declared bankruptcy. At the time private investors have appeared – the Krzemiński brothers, Polish entrepreneurs as well as Leonard Murawiec. Ownership changes have entailed modifications in production profile. The company started to manufacture various types of equipment for shops, stores, warehouses and petrol stations i.e. pallet boxes, pallet containers, display tables and baskets, POS&POP displays. Still, the turning point took place in 2007 when Siegel Poland, which belonged to the bankrupted Siegel GmbH, a well known German manufacturer of shopping trolleys and other equipment for supermarkets, was purchased. At the time the enterprise started to build its PRODUS brand of trolleys. Today is a perfectly recognized brand, acknowledged not only in the European market, but also in the other parts of the world. The next important steps in the corporate history were the creation of Produs Service in Moscow and acquisition of POLIDAR company in the Czech Republic.
In 2015 there was established RDR Plast Sp. z o.o. company which specializes in production of plastic accessories to shopping trolleys. Currently, all companies constitute Damix Group.

What stands behind the success story of the company? ISO certificate, high quality products, short delivery times and low prices proved to be a perfect mixture for achieving the market leader position. What is more, this combination of factors makes Damix an attractive partner for domestic and international customers. The quality management system of the company covers all operations and processes at Damix. Detailed descriptions of the production and business processes ensure high & repeatable quality of the products. What is more, Damix offers a wide range of complementary products that address the needs of companies representing FMCG, household appliance, textile or construction sectors as well as manufacturing industry. It manufactures customer guidance systems with electronic and mechanical gateways. Next to that, Damix offers a wide range of products for the warehousing and logistics industry. A significant part of the manufactured items belong to POS & POP displays. We have started the production of luggage trolleys for airports, hotels, etc.
The works is complementary equipped and located on a plot of over 5 hectares with production and storage facilities totaling to the area of 30,000 m2. The electroplating plant of Damix is well known in the country for its top quality of chrome plating, nickel plating, zinc plating, copper and brass plating. Damix is in possession of three lines for powder coating and extended machinery for metalworking. We have invetsed in electropolishing line and production of stainless steel was possible. It all allowed Damix to be perceived as a valuable business partner with a wide range of products, providing good and stable conditions for cooperation. On top of that, a qualified personnel brought the company to its nowadays position, especially the team of engineers and technologists who have elaborated and implemented into production nearly 80 shopping and transport trolleys in several families: Avant and Classic shopping trolleys as well as Vario & Carry transport trolleys.
In fact, shopping trolleys are a peculiar product at Damix. Currently, the company delivers above 100,000 trolleys to the market per year and it reports further interest in this product.


a
Sales markets
| | |
| --- | --- |
| | As the strategic partners of Damix have been and are large international and Polish retail chains. Of particular importance are Polish chains such as: Biedronka, Grupa Polomarket as well as those with headquarters in Germany, France, England and Netherlands – Kaufland, Auchan, Action, REAL, Castorama, Leroy Merlin, Bauhaus, Hornbach, Bricoman and many others. By investing in the most difficult period Damix managed to escape the consequences of the economic crisis. Consolidated sales revenue of the Damix Group in 2020 was ca 70 000 000 EUR. The crucial export markets of Damix are the countries of the European Union, Eastern Europe and the Middle East. Shopping trolleys are also becoming increasingly popular in Norway, Sweden, Finland, Russia, Belarus and Ukraine. All of these exports trends will be developed. |
a
Plans for the future
In fact, from the very beginning of its business operations Damix focused on Polish and international markets, gradually increasing its export figures, which is already above 40% of sales revenues. At the current moment the top priority of the organization is to strengthen the market position in foreign markets. With regards to this goal, in the recent years the products of the company have been promoted at global fair trade Euroshop in Düsseldorf. Industry fairs in Paris, Moscow, Madrid and RetailShow fair in Warsaw are also must-be events for Damix. The network of sales representatives and distributors will be also extended. What is more, in the Rypin factory a large showroom available to the customers is being prepared.
In general, the process of factory modernization will be continued. A completed expansion of electroplating plant will allow Damix to increase its production capacity to 250,000 trolleys a year and to better exploit the potential of the factory in terms of other manufactured goods for shops. Put into operation a new galvanizing line means not only a large increase in production capacity, but also the concern for the full respect of the environment, including closed water circulation. Further automation of welding positions will be continued according to current needs.

Thanks to funding from the European Regional Development Fund under Sub-measure 5.2.2. Support for business investment Scheme: Support for manufacturing companies cooperating with vocational schools the Regional Operational Programme for Kujawsko-Pomorskie or 2007-2013 we were able to retrofit a plant in robotic welding and spot welding stations, laser of a new generation, modern design tools, forklifts. As a result, we better met the needs of the customer, eg. through the implementation of new products and modify the technology of trolleys production.
Below some examples of new shopping trolleys:

In the middle of 2004 we introduced a quality management system complies with ISO 9001:2015.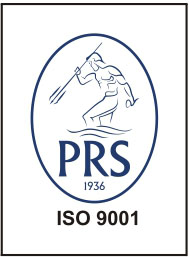 Still the center of attention will be in the Damix the quality of products and creating stable conditions for cooperation with customers. At the operational level, this means timely execution of orders and maintaining good competitive prices.